Standard pressure gauge Thermis series 304/358
Standard pressure gauges series 304/358 are produced according to standard EN837-1. Mainly used for simple pressure measurement of liquids, vapour and gases, that do not have a corrosive effect on copper alloys and its viscosity allows for measuring using bourdon pen mechanism.
max. pressure 40Mpa
diameter 63mm
metal case
back 358 and bottom 304 connection
More information in attached catalogue.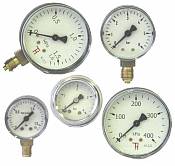 ---
Files for download
Inquiry form