Radial piston pumps WIMMER
WIMMER radial piston pumps are hydraulic pumps with a constant volumetric output. The pumps are usually used to supply hydraulic systems with pressure oil. WIMMER's range of pumps includes simple pumps with one to six pistons and twin pumps with up to 12 pistons. All pumps are available with flange mounted gear pumps (HP/LP - pumps). In the case of pumps with multiple pistons, it is possible to have two to six pressure outlets from one pump depending on the number of pump pistons.
3 sizes (groups)
up to 250Bar/500Bar/700Bar/1000Bar
up to 6 pistons per single pump or up to 12 pistons per twin pump
delivery from 0,3L/min up to 48,1L/min (96,2L/min for double pump)
possible piston diameters 6, 8, 9, 10, 12, 16, 19 und 22mm
More information in attached catalogue.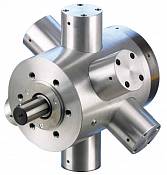 ---
Files for download
Inquiry form